The morning after the Jay-T (creatively coined by Arianna) concert, I woke up refreshed and ready for a trip to the beach with the girls. I think it's important for you to know that my life lately is a bunch of little trips to the laundry room: one for towels one day, another for undies (not going to lie, I debate buying them. all. the. time. to get around this), most recently, my New Yorker huuuge beach towel and OP 'kini. Which was fine, except that I forgot to wash the cover-up, too.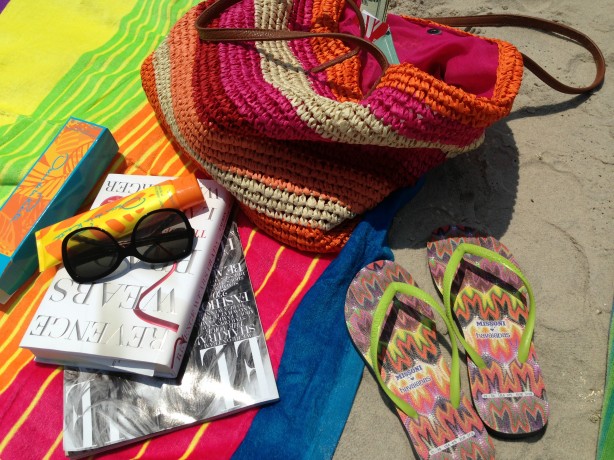 I could have dug it out of the laundry basket, but too be honest, it was too far down, and well, it might have smelled by the time I got my hands on it, so, thus kicking off my quest for a cover up.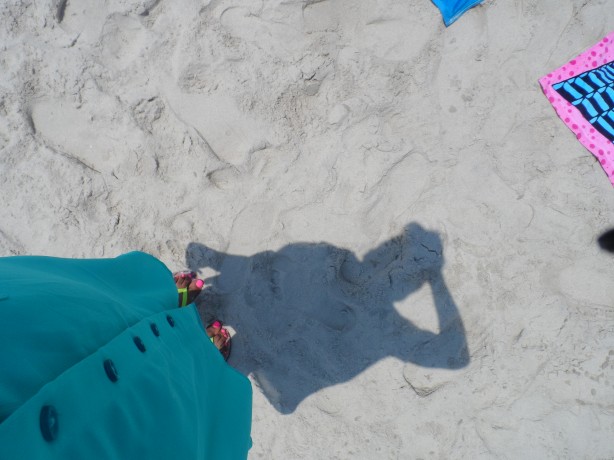 I settled on a sized medium silk sleeveless shirt from Coldwater Creek. I'd gotten it from a preview, and even took pictures in it for the blog before realizing that the shirt was completely sheer. Clearly, I never posted those pictures, but the top did lend itself to be the perfect cover-up. Satisfied I throw that on with my bathing suit and then added a Mr. T-esque gold link necklace to complete the look. I filled my Old Navy beach bag with a book, sunnies, and sunblock before sliding my feet into my Missoni for Havianas  flip flops and heading out the door to the 6 train that would take me down two stops to my friends.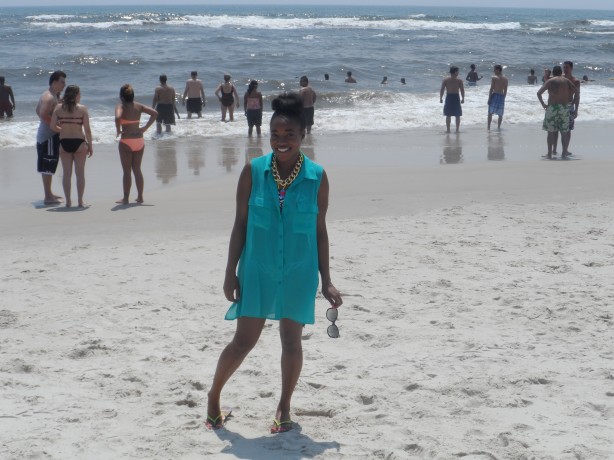 "You headed to the beach?" A garage attendent asked when I walked by. "Yup! My first time at a New York one," I told him smiling. "Have fun, you look nice."
And I was going to feel nice soon with my feet in some sand… How do you like to get ready for the beach? Sally Hansen wants to know and you could win a prize one of two ways: You can join the sweepstakes for a chance to win a $5000 shopping spree.  You can also enter the Take it Off, Show Off contest – there will be 7 show off moment challenges throughout the summer, which means seven chances to win.  Each challenge will have 5 winners, and they will each receive $100 worth of Sally Hansen products.

Want to Show Off Smooth Summer Skin? Sally Hansen Ouch-Relief wax strips get you hair free and care free all summer long! Go Ahead Show Off and Enter the Sally Hansen Challenge!
p.s. Compensation was provided by Sally Hansen via Glam Media. But I really did wear jewelry to the beach.