Guess who's bizaaaack?!
I mean, obviously me, its been a minute (feels like forever, though) since I posted something, but most importantly, "Five Style Lessons" is back. Let me tell y'all why I love you, you're not afraid to call me out on my mess. Here's a for-instance, if you will:
My new friend Farrah emailed me yesterday like, "Listen, Chan, I'm really happy for you and your move, and Imma let you finish, but '5 Style Lessons' was the best series of all time [on my site, not the world]!"
I kid, I kid.
She didn't say it like that but she did tell me that she missed them. And my nail posts and wished that I would bring them back. Coincidently Kamille (who just started an awesome new site) was just getting on me for that in GChat. "It's one of your site's signatures," she typed to me.
So here we are. You and I. I'd like to bring back the series with a girl that I–surprisingly–found myself in love with: Mary Jane Paul, played by Gabrielle Union on BET's soon-to-be smash hit (I'm sure of it) Being Mary Jane. When we first meet Mary Jane, we discover that she is a TV journalist, *swoons*, who is entirely self-suffient, maybe a little too much so, just trying to balance work, play and family without teetering over in her platform heels.
I didn't watch it with the rest of Twitter but best believe when I finally did watch it, I paid attention to more than just the dymanics between Mary Jane and the men in her life. So with that, let's get into it… five style lessons we can glean from Mary Jane Paul.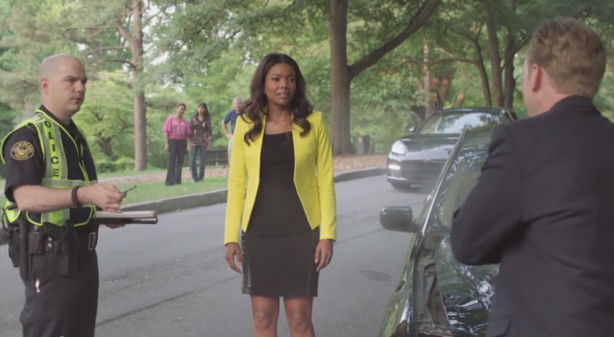 1. Blaze On
I used to think blazers were boring. Or too stuffy. That isn't the case at all. Blazers add an interesting bit of structure to your look especially when complete with fun detailing like an edge-y silhouette and bright color like the one Mary Jane is wearing above.
2. Go Ahead, Shift!
The above could easily be said of shift dresses. They're super easy to wear so that could translate to boring. Except, again, Mary Jane is showing us that corporate doesn't have to be snooze fest. You can look polished in professional at the same time with a classic silhouette and graphic prints.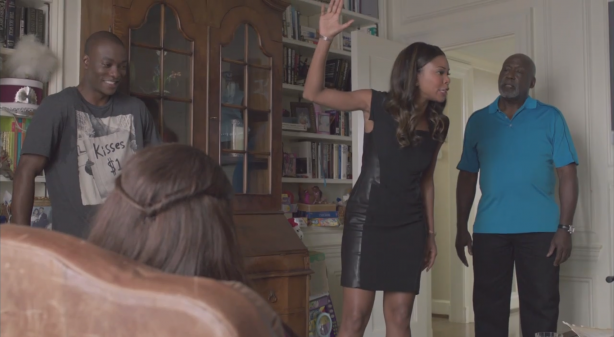 3. Say Yes to Leather
I'm not sure when exactly leather was deemed strictly for bad girls (or cooler months) but that is no longer the case. I promise just about every press preview I've been to lately has featured leather (faux or real) in some form or fashion. Paneling is a good way to try the trend without full on commitment.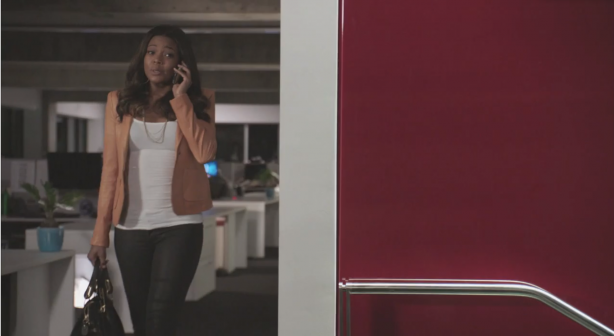 4. Cognac Colored Anything= YES
Cognac (the color, not the beverage) is one of those great colors that works with any and everything. It's a light enough brown for the people who don't like to mix black and brown–like Mary Jane did above. Adding in this color is also a good way to 'dress down' a look. Invest in something this color, I promise you will use it all the time.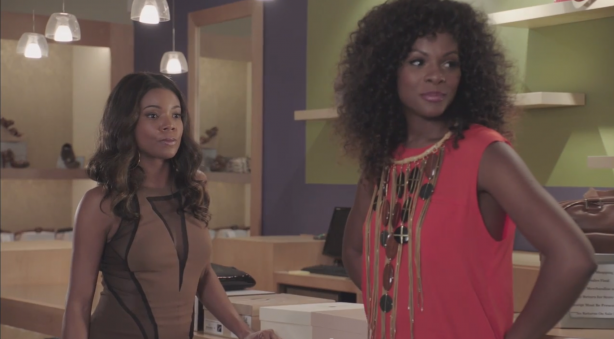 5. Show a Little Skin
The older I get, the more inclined I feel to cover up. It's all a balancing act. One made easier with the illusion of skin the way the cutouts in Mary Jane's dress are giving glimpses of skin under sheer paneling. Leave a little something to the imagination.
Okay, guise. So there we have 5 style lessons courtesy of Gabrielle Union's character on BET's Being Mary Jane. If you haven't seen the made for TV movie that will lead to a series on the network next January, you definitely need to check it out. I'll put the trailer down below for you. Oh, and I think I can do this series again. I'm ready. Is there someone special you want to see? Tell me below in the comments!