Just who is this Channing girl?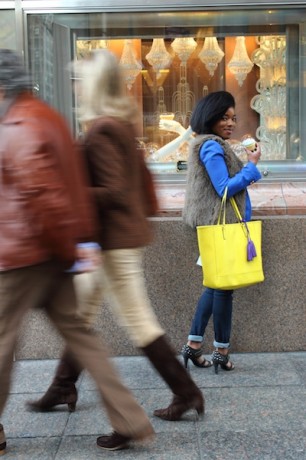 Hi there!
I'm Channing, a tiny Pennsylvania export finally living out her dreams in New York City. By day, I am a reporter covering the latest in women's fashion and beauty. You can usually spot me in a crowd: short, wearing sequins, and a big smile. By night, I open up my Macbook and blog about it all.
I heart New York IT girls Holly Golightly and Carrie Bradshaw–evident in my moment at Tiffany's on the left–and am never without my iPhone, pink lipstick or blot sheets.
I'm usually running, in heels, all over the city (follow along on Twitter and Instagram), covering events and red carpets all while continuing to chase my dreams–leaving a trail of sequins along the way.
Are you working toward your dreams, too? Come, walk (more like run) with me! We can talk the latest in style, nail polish and books along the way.
p.s., Oh, and be sure to check out my press mentions here and my writing clips here.