If there is one thing that I've noticed during New York Fashion Week–I swear I'm going to do a recap–it's that even when you're supposed to be paying attention to the clothes, the people with true style steal the spotlight.
Case and point: Rita Ora.
I remember when I first heard her sing areeeeeeeeeeeee eyeeeeee peeeeeeeee to the girl you used to see, her days are overrrrrrrrr–that was me singing to you, by the way. And then I saw what she looked and that cemented my girl crush. When Rita isn't performing her songs like "RIP," "Radioactive," or "How We Do," you can see her hanging out with her model best friend Cara Delevingne, looking amazing. And every single time I get a peek at her outfit on Instagram, I get my life. So much so that there are five style lessons I think we can gleam from the singer's fashion sense (and her Instagram).
Ready?


1. Lace Doesn't Have to Be Ladylike
I like lace–a lot. But sometimes, it can look a little old lady fuddy duddy. The way Rita wears it though, is anything but lady like. She's paired lace with graphic tees and worn lace dresses with her undergarments showing–a neon bra I don't mind, panties, not so much. Either way, it's a very refreshing way to wear lace.


2. Crop That Top
I'm really on the fence about crop tops. I like them when they are loose and flow-y with a sliver of skin showing. Or paired with something high-waisted but Rita makes me what to try an actual crop top. And it doesn't look like a 90s throwback.


3. Black and White isn't Always Boring
Previous to my life in New York, never had I ever owned so much black. Save for nail polish. Finding the perfect inky black polish is an ongoing challenge. However, when it comes to clothing, I am reconsidering my stance about negro y blanco. It isn't boring after all. Done right, it's actually very interesting. Thank you Rita for showing me your ways.


4. Tough as Leather
To be honestly, this is a completely selfish point. If I could wear faux leather for the rest of my life, I would. With sequins, obvi. I have worn a faux leather skirt so many times in the past two weeks that one of my friends pointed out she didn't want to see me in another faux leather anything for at least three weeks. Clearly, that's not happening. But I do like the juxaposition that leather provides to my personality. Leather is here to stay guise, Rita's style says so.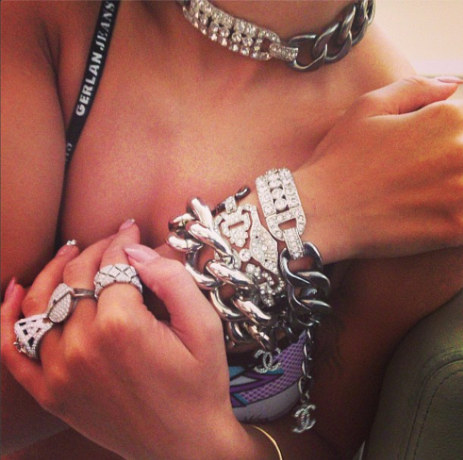 5. Pile It Own
Another selfish point. I am all about the accessories. Too much jewelry is never a problem–for me. The way a person stacks their jewelry tells a story. Currently, I am wearing 4 necklaces, one watch, three bracelets and I'm finally branching out and trying the midi ring trend.Plus, have you ever noticed how jewelry instantly dresses something up? So pile it on!
What do you think of Rita Ora's style? Fun? She looks so much like a model in her clothing, I forgot that she was a singer. I will say that she makes me want to pile on the accessories in a leather dress. I won't lie.
Which number spoke to you the most?